Cera-Tech 3D Dental Lab Inc. uses digital technology with your choice of full contour zirconia (750Mpa and 1000+Mpa) as well as PFZ (Porcelain fused to zirconia) for implant restorations. All of our implant restorations have an internal titanium base with in most cases a zirconia or pfz 'crown'. With advances in tibases, special screws and new software, we are able to make generally every implant a screw retained implant. It is no longer necessary to have an abutment and then a separate crown cemented over top. Our porcelain fused to zirconia restorations are designed very similar to a PFM substructure with the correct support in the areas that require support for the layering ceramic, thus preventing costly remakes. With the advances in zirconia over the last few years, we use a premium medium to high strength monolithic multilayered zirconia for most posterior and anterior implant cases. Cera-Tech 3D Dental Lab Inc. strives to provide you with the strength, beauty and reliability you deserve from your dental laboratory. We are pleased to accept your digital impressions and also your traditional manual impressions.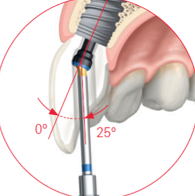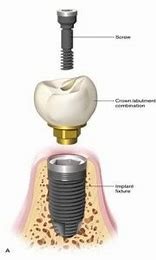 Digital technology and on-site service allow our dental laboratory to deliver "Made in Canada" restorations, a guarantee for constant high quality and attractive prices.

Implant restoration involves surgically anchoring implants into the jawbone below the gum line, then attaching an artificial tooth to those implants. After the implant has been placed, your gum and bone will continue to grow around it, ensuring that the implant stays firmly in place.
If you are missing teeth and having trouble speaking or chewing, or are noticing strain when biting, implants may be the ideal procedure to help make your mouth healthy and beautiful again. Implants literally replace your entire tooth, root to crown by the dentist or surgeon placing the implant into your jaw and then cementing or screwing a crown or bridge onto the implant. Implants are permanent – they can only be removed by a dentist – and are comfortable and proven to be strong and long lasting.  We are proud to offer metal-free options for your restorations. They are made from materials like porcelain and ceramic, customized to your natural tooth shade, and look like your natural teeth. A customized shade makes them virtually undetectable. Sometimes titanium is also used in more complicated biting situations but are still covered with a ceramic crown.
Not sure if you need an implant or which material makes the most sense for your implant? Ask your dentist to tell you more about your implant options and then have them send your impression or digital file to us, we'll be happy to fabricate your custom restorations.